John Maxwell's Law #1 is the Law of the Leadership Lid (in his book "The 21 Irrefutable Laws of Leadership"). This law states that a company will only grow as far and as great as its leaders can lead it. Wow. This means that the CEO and his or her leadership team is the rev-limiter in the company's growth engine.
Consider this. If you are growing at 25% a year, you will almost double your company in 3 years. That means if you have a company doing $25mm in revenues today, growing at 25% a year over 3 years, your company will be at $48.8mm of revenues in 3 years. If you are part of the leadership team of such a company, ask yourself…. can I successfully manage my role or whatever role I will be playing in a $48.8mm company?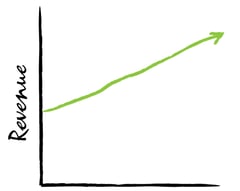 >Let's start skating to the $48.8mm puck right now instead of skating to the $25mm puck. In your annual planning session, ask:
If I have never been part of a team running a company twice our current size, where can I learn how to? Who can I call to help me and mentor me?

Which companies should I study to learn about what we have to do as a company and what I need to do as a leader in this company?
Leadership is a skill that is developed over time. If you hit your Leadership Lid today, you will not be able to be reborn tomorrow as a great leader. Unfortunately, developing people and leadership skills just does not work that way. If you enjoy working with the team you have, you will need to groom them now. Otherwise, you might be forced to replace them in 3 years or less when the challenges of growth surpass their ability to lead.
So in your annual planning session, come up with a good plan and budget to grow your leadership team next year.
Enjoy!